<.< Oh please...you haven't seen jack honey. (5 year vet of Text based RPing.)
@Lander" FF ftw. This character happens to come from a Final Fantasy website I've owned for three years.
See?
I took off a lot of the "god-moddy" skills for this type of RPing, since there's no real track of magic or endurance. Hopefully this is watered down enough.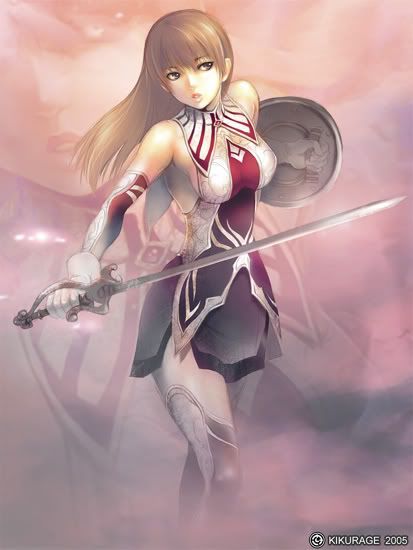 Age
: 18
Race
: Guardian
Gender
: Female
Home World
: Earth (See history overkill for details.)
Class
: Elemtentalist (Water/Ice)
Weapons
:
Sword of a Thousand Falls
Shield of Nazarath
Elemental Alignment:

Primary
--Water
Secondary
-Ice
Tietary
---Cure (QED, the ability to heal. You could consider it light...or whatever.)
Fighting style
: Fighting style composes mostly of short ranged melee, with some heavy spellcasting for ranged onslaughts.
-Passive Skills:
Elemental Alignment
-- Strong against Fire and Lava magic. Weak against Earth and Plant magic.
Quickdraw
- Able to quickly block physical attacks and executing casting, compensating for a slow movement and attack speed.
Sloth eyes
- Able to quickly outmaneuver close ranged attacks, while being susceptible to long ranged onslaughts.
===========================
Attacks
:
Typhoon Wave
: From behind the caster errupts a large wave, about ten feet in height and ten feet in length rushes forward and deals damage to anything in its path, including to allies. (This includes the caster.)
Azure Arrows
: forms her fingers into a gun shape, and casts Azure Arrows, which forms water into five, six foot arrows, and target a foe, singling them out. The arrows then focus in and slice through the target.
Aqua Purge
: spreads out her fingers and hand, and a large orb of water springs around the target. It is about ten feet in diameter, but may be extended to cover a certain target or groups of targets. It can also be used as an attack, that surrounds a target and crushes them with water; however, it cannot be used as a finishing move, for it is too weak a crush to fataly injure someone.
Blizzaga
: Strong ice-elemental attack.
Ice Brand
: Sword attack with ice element. Deals Medium damage.
Water
: Weak/medium water attack.
-------------------------------------
Good Qualities
: It's clear that Rose is a seasoned fighter from more than one plane of reality, and that wisdom from her multiple battles seems to have been pushed out into the surface; making her wiser and more aware of her surroundings. She seems to be very open to learning about power now. Arianne also seems to be an excellent leader and a truly loyal friend. When she sticks to a promise, good or bad, she will keep that promise until it is finally finished.
Bad Qualities:
Extreemely naive, Rose can often let her emotions get the better of her. She tends to often leap long before she ever watches where she's going. She's hardly known for her power of speed. Despite all her goodness, however, some sins of her own, such as wrath and (meh heh heh) lust, tend to drag her sense of morals down.
STATS
: ((mhm...))
Attack/Strength Power
: Above Average.
Defense
: COLOSSAL.
Magic/Mana Power
: Average
Magic/Mana Defense
: Average. This depends on the element of spell. Pinky is weak to Thunder/Rose/Plant magic. Any of it. It will cause critical damage, no matter what....unless she dodges it.
Speed
: VERY VERY VERY LOW.
Accuracy
: Low
Evasion/Agility
: Largely Above Average
Luck/Chance
: Low
PER-SON-AL-EH-TAW:
A born leader, Rose does her best to lead the crusade against the doings of wrong. She's often very outgoing, friendly, and polite, but sometimes a rude or inverted personality can clash with her own. She's set on making things right in this world, and will do anything she can, even risk her life, to make sure it happens. She's very brave, but can be rash when it comes to making short-notice descisions, or choices when it comes to her friends. Often, she's too trusting, and once you stick with her, you're often stuck for good.
Affinities
: Lawful Good (dungeons and dragons? bring dice.)

Appearance
: ((See picture))
History
: WARNING! HISTORY OVERKILL!
Hidden: