And now for my kills!

Great time, lol, highlight of my day when Willow asked me to come.
Next time, I ask my computer to not lag so horribly, one time we were hopping worlds as we cleaned the area, so I clicked World Select, but then nothing happened, so when another autoer came, and I decided to down him as well, so, half way through this fight, I appear at the World Select page! I remembered the world, but it wouldn't let me log in, I kept trying and trying, eventually it did, I knew I was dead. Well, I log in, and a green dragon actual killer downed the autoer and saved me. I'll <3 him forever.
Devil00 was another nice guy that scouted autoers for us.
It was fun to see some of the auto talkers they had. "Hi." "I m not autoer" "I no speak english." Normally you'd think that that would mean that they aren't autoers, but they had addy helms on, and would start burying bones upon attacking them, also, almost every autoer would say that. Good times.
Brilliant time though, killing all the cheaters, and the drops actually weren't even that bad. I think I did pretty well for not having teleblock, and only using entangle, ha ha.
Well, the kills, and some random pictures of the gang: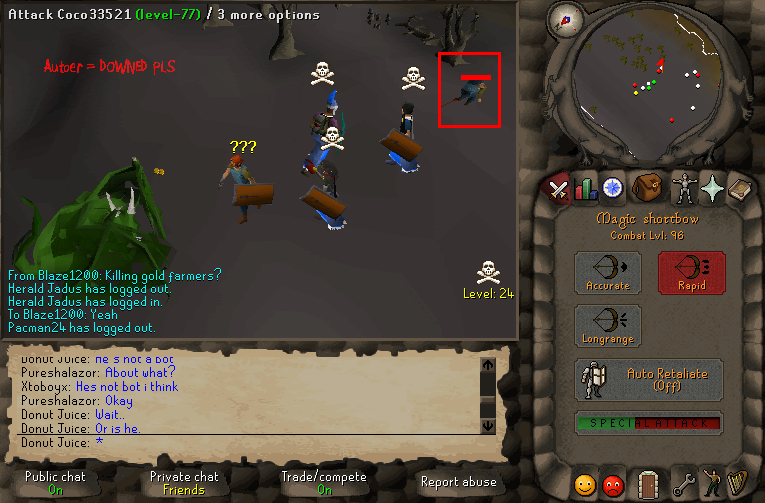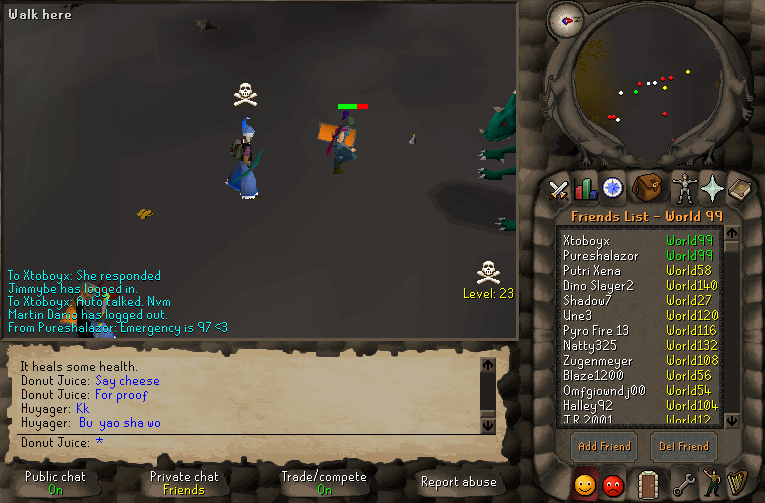 (This one was kicking the dragon for whatever reason o.o)
(Interesting story here, this guy looked like an easy kill, and Willow was getting him, unfortunately he ran, but Willow and us kept chasing him, we appeared at the wilderness portal, but there were about 15-20 lvl 100-120s waiting there for us.. man, that was a lure and a half. Don't think any of us died though.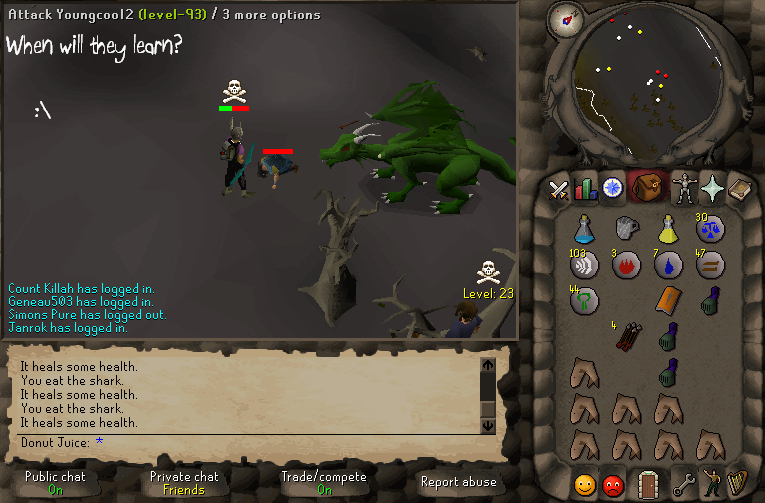 Ha ha, we should make this an RV Event sometime, just go around RuneScape owning all the autoers, I want to do this again sometime, fun as hell. I can see why the PKers of FoD love PKing ;D
Nomercybuddy wrote:
LOL! Next time you guys are out killing autoers and if I'm on, invite me. I'd LOVE to come lol

Lol, definitely.
They'll be dropping like flies when you come o.o