Village Legend

Joined:
May 28th, 2005, 7:14 pm
Posts:
3,268
Gender:

Status:
Offline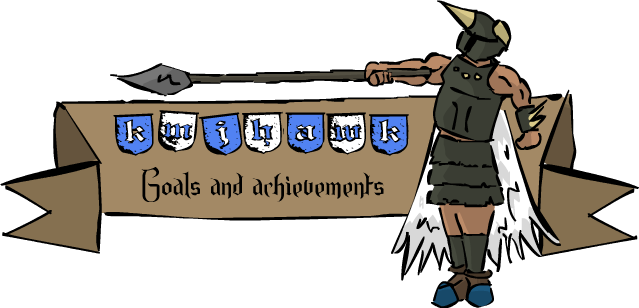 1. Introduction


Well, hello! Thanks for visiting my thread. My name is James. I'm coming back from my latest break and have been enjoying being back. I've now made a goals topic in order to give myself a bit more initiative. So thanks for looking!


---



2.Table of Contents:

1. Introduction
2. Table of Contents
3. Current Stats
4. What I'm Working on
5. Long term Goals
6. Daily Log
7. Bank Picture
8. Free Farming!
9. Good Drop Log
10. My 99s!
11. Goals Completed
12. Daily Log Archives
13. Need to Do List


---
3. Current Stats
---
4. What I'm Working On
---
5. Goals

I had a crafting run from last summer still. Was trying to tan all my own hides. Was very slow, when I get some money I'm going to try to tan the other third of the hides needed and the last 4.3 mil I will buy tanned hides.



Always loved farming, got away from it a bit though. Putting herbs and marigolds in between slayer tasks. I'll put trees and fruits in when I can.



Always was a fan of hunter. Got 76 hunter in the first week it came out. Got to rank 140. Couldn't keep up and was tired of trying to keep my spot at chinchompas so quit. Was amazing though, no one had any kindness whatsoever. Will try to get to 85 and get 99 in steps though.



Varrock Achievement Diary. *sighs* Will get it when I can probably through smelting gold ore. May mine it at the dwarf city so I can get some Mining experience which is a one in a life time thing.



So many reasons to raise it. And so many ways to procrastinate it. One of these days... Donut will have to persuade me to go with him.

But eventually I'll end up getting the experience. A little by little I'll get 99. Maybe.


Meh, why not I like combat levels and I have all these charms.



Dark Beasts and I like the fact I can slay everything. It'll also encourage me to get charms and train Mage and Range on certain tasks.




90 is a nice number, but eventually want it at 99. When I get lucky from god wars I'll spend on chins for 99.




95 is a nice number, but I want 99. Will get it through Alchs, Dagganoth Kings, Mage Training, barrows, and other miscellaneous things.

---


6. Daily Log

Sunday, May 4th, 2008

Decent day to be honest. Did an herb run when I got on. By the way, when I say farming run I usually mean herb run because I'm lazy for tree runs. Ha. Anyways started slayer again and got myself a fire giant task. Nabbed 100 Gold Charms on that task. Did another herb run and am now about 270k away from 86 farming. Afterwards made my way to one of my best Miscellenias ever. 52 nests with seeds. 4. Count them 4 Magic Tree seeds. 1.5 mil worth of seeds out of 52 nests. Wow. That wasn't all either. My next task was Spiritual Mages and on the 2nd kill was Dragon Boots. Got some more Boots on the end of the task too. Ended up under 400k to 90 slayer. Hope to get it within 2 weeks. Got an Abyssal task before going to bed, but never started it. Up to 39 mil. Probably still going to spend it on crafting after 90 slayer.

OH AND! I got Goten's cav from a clue. Then I got mad because it was only 40k. D: Cheapos.





Saturday, May 3rd, 2008


Hidden:



Friday, May 2nd, 2008


Hidden:



Sunday, April 27th, 2008


Hidden:


Saturday, April 26th, 2008


Hidden:



Friday, April 25th, 2008


Hidden:



Wednesday, April 23rd, 2008

Hidden:



Tuesday, April 22nd, 2008


Hidden:



Monday, April 21st, 2008


Hidden:



Sunday, April 20th, 2008


Hidden:



Saturday, April 19th, 2008


Hidden:



Friday, April 18th, 2008


Hidden:





Hidden:



Monday, April 14th, 2008


Hidden:




---
7. Bank Picture
Hidden:
---


8. Free Farming!

Details: Well, have you got those Torstol, Dwarf Weed, Lantadyme, Cadantine, or Snapdragon in your bank? Do you have the feeling you'll never get the needed level to farm them, but still want the herbs? LOOK NO FARTHER!

I, Kmjhawk, will trade you my herbs for your herb seeds. I will give you 5 or 6 herbs per seed you give me if the trade screen allows for me (Dwarf Weed for Dwarf Weed, Torstol for Torstol, etc.). You can add junk items for the trade to be even.
1.) Pm me on Runevillage
2.) Pm me on Runescape, my private chat is normally on
3.) If my private is on friends, use the "RV CC" to contact me, I'm normally always in there when I'm online.

Thanks for reading, and I hope you take advantage of this!


---


9. Good Drop Log
All Dates are in the link itself.



Abyssal Demons



[Head 1] [Head 2] [Head 3] [Head 4]

[Dragon Med]

[Dragon Spear 1] [Dragon Spear 2] [Dragon Spear 3]

[Whip 1] [Whip 2] [Whip 3] [Whip 4] [Whip 5] [Whip 6] [Whip 7] [Whip 8] [Whip 9] [Whip 10] [Whip 11] [Whip 12] [Whip 13] [Whip 14] [Whip 15] [Whip 16] [Whip 17] [Whip 18] [Whip 19] [Whip 20] [Whip 21] [Whip 22] [Whip 23] [Whip 24] [Whip 25] [Whip 26] [Whip 27] [Whip 28] [Whip 29] [Whip 30] [Whip 31] [Whip 32] [Whip 33] [Whip 34] [Whip 35] [Whip 36] [Whip 37] [Whip 38] [Whip 39] [Whip 40]



Dagganoth Kings


Realize that I never recorded pictures until my last 5-10 trips.

[Archer Ring 1] [Archers Ring 2] [Archers Ring 3]

[Berzerker Ring 1]

[Dragon Axe 1] [Dragon Axe 2] [Dragon Axe 3]

[Mud Staff 1]

[Warrior Ring 1]

[Seers Ring 1] [Seers Ring 2]

[Seercull 1] [Seercull 2]

[Med 3]



God Wars





Armadyl


[Plateskirt 1]

[Hilt 1]



Saradomin


[Shard 1 1]

[Shard 2 1]

[Sara Sword 1] [Sara Sword 2]



Zamorak


[Steam Staff 1] [Steam Staff 2]



All Dragon Drops


*Note* All Dragon Boots and Dragon Axes were not recorded, didn't feel they were rare enough when I began getting them. Approximately 20 Axes missing and 15-20 D Boots missing.

[Boots 1] [Boots 2] [Boots 3] [Boots 4] [Boots 5] [Boots 6] [Boots 7] [Boots 8] [Boots 9] [Boots 10] [Boots 11] [Boots 12] [Boots 13] [Boots 14] [Boots 15] [Boots 16] [Boots 17] [Boots 18] [Boots 19] [Boots 20]

[D Chain]

[Skirt 1] [Skirt 2]

[Legs]

[Left Half 1] [Left Half 2]

[Med 1] [Med 2] [Med 3] [Med 4]

[Spear 1] [Spear 2] [Spear 3] [Spear 4]

[Dragon Axe 1] [Dragon Axe 2]


---
10. My 99s!
99 Defense - June 30th, 2007
Hidden:
99 Hitpoints - March 10th, 2007
Hidden:
99 Strength - February 18th, 2007
Hidden:
99 Attack - February 8th, 2007
Hidden:
---


11. Goals Completed

This is where I'll put all the goals I've completed during this topic.


Hidden:
Hidden:
Hidden:
---


Thanks for browsing my topic and leave a post. <3
__________________
132 Combat | 1969 Total
Whip Drops - 40
Click for my Goals & Achievements


Wonderful job Stale!
[/b]

|
|
| | |
| --- | --- |
| Last edited by Kmjhawk on April 30th, 2020, 8:12 am, edited 83 times in total. | |