Not that I wanna ruin people's mental image of the characters, but I'm finally finally back from that... "camping trip" .... anyway I had some free time when not worsening my injuries doing ... anyway.
I did some drawings. I also used a picture I downloaded from my deviant art of an old Jane sketch in a notebook some retard ruined of mine by setting my bag down in the water.
This is the redone Jane mostly the same as before minorly altered. For some reason I like how this one(s) turned out. The clothes are baggy so she can shape shift easy and her hair is fairly messy.
Jane:
Tabitha's jacket is sposed to be stiffer material going along with her uptight nature. Straight hair light complexion etc.
Tabitha:
Whenever I draw Xavia, it ends up like this somehow. She seems to have some sort of ethnicity I dunno. Some bio spoilers inside the spoiler thing with the image.
Xavia:
I rather liked the one I did for Stephanie. I spent probably too much time on it along with the Jane one too. I think it conveys her laid back attitude overall as well as some confidence and readiness to act.
Stephanie:
So that's that.
I'll try and do something this weekend as I'm super exhausted this week.
__________________
"The good warrior knows when to fight, and when to withdraw."
- Sun Tzu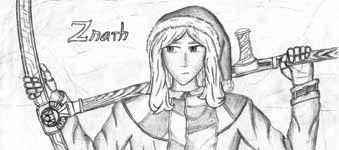 I'll smith anything up to 93 smithing if you have the material for me to make it with
My Story, Horrors of Myron County
RV's Drawing archive topic, post yours or comment on others